‹ Back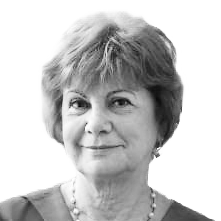 Professor Éva
Kondorosi
Member of the Group of Chief Scientific Advisors, European Commission, Class Chair of Life Sciences, Academia Europaea
CV
Eva Kondorosi was born in Budapest, graduated (Biology) and received her PhD (Genetics) at the L.… (
more
)
Eva Kondorosi was born in Budapest, graduated (Biology) and received her PhD (Genetics) at the L.  Eötvös University in Budapest. She was postdoc at the Max Planck Institut für Züchtungsforschung (Köln) and visiting scholar at the Sussex, Harvard and Cornell Universities.  
Eva Kondorosi was the founding director of the BAYGEN Institute (2007-2012) which is now part of the Biological Research Centre of the Hungarian Academy of Sciences in Szeged where she directs the Symbiosis and Functional Genomics Unit. She has also been a founding member of the Institut des Science Végétales CNRS in Gif sur Yvette, France as one of the first research directors and group leaders.  
Her primary research field is Rhizobium-legume symbiosis with recent focus on the plant controlled differentiation of bacteria.  For her original discoveries she received several awards including the Széchenyi and the IS-MPMI awards in 2012.  
She is Full Member of the Hungarian Academy of Sciences, a foreign associate of the National Academy of Sciences (USA), and member of the following institutions or bodies: Academia Europaea (also member of its Board of Trustees), the European Molecular Biology Organization, the Board of Directors of the International Society for Molecular Plant-Microbe Interactions (until 2016), the German National Academy of Sciences Leopoldina, the French Academy of Agriculture and the Scientific Advisory Board of the Secretary-General of the United Nations (2013-). She was member of the Scientific Council of the European Research Council (2013-2018) and served as the Vice President of ERC (2016-2018).