‹ Back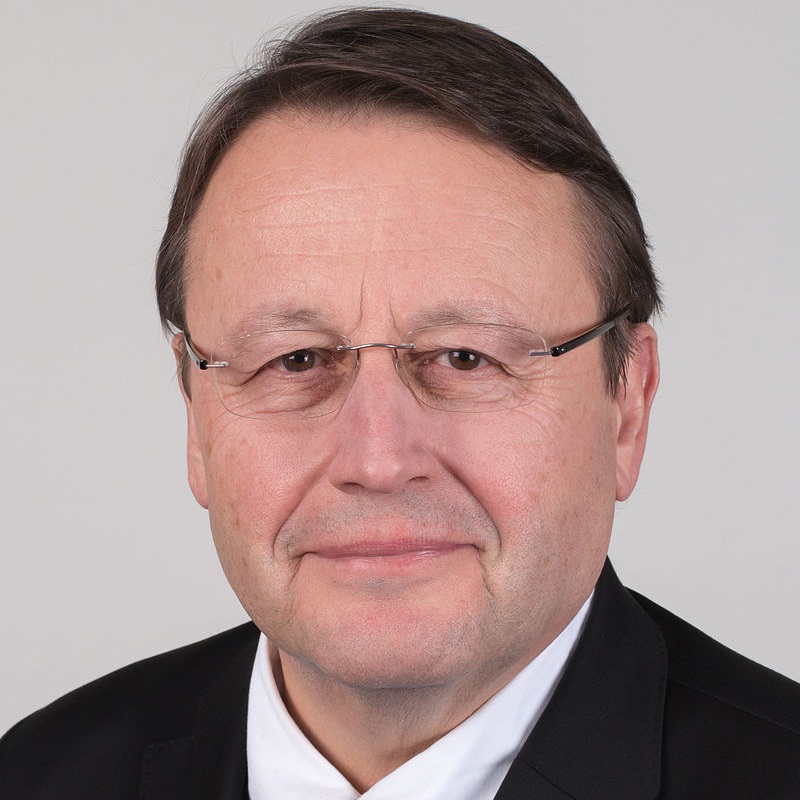 Dr. Paul
Rübig
Vice Chairman Science and Technology Options Assessment, European Parliament
CV
Paul Ruebig, born in Upper Austria, has been a member of the European Parliament since 1996 and… (
more
)
Paul Ruebig, born in Upper Austria, has been a member of the European Parliament since 1996 and belongs to the European People's Party (EPP). He is the owner of an Austrian blacksmith company and has a degree in Business administration, marketing and production engineering from the University of Linz, Upper Austria. He is married and has two children.
Paul Rübig is full member of the Committee on Industry, Research and Energy and of the Committee on Budgets. He is Vice-Chair of the Delegation for relations with the Korean Peninsula and substitute member of the Delegation for relations with Switzerland, Norway and of the EU-Iceland Joint Parliamentary Committee and the European Economic Area (EEA) Joint Parliamentary Committee. Furthermore, Paul Ruebig is also a substitute member in the Committee on Development.
Paul Rübig is very active in the field of the small-scale business promotion. He is president of SME Global, a working group of the International Democrat Union (IDU), whose objective it is to support small and medium-sized enterprises (SME) and to improve their business environment. Paul Ruebig is also 1st Vice Chair of STOA (Science and Technology Options Assessment), an official body of the European Parliament that is supported by external experts such as universities, scientists or research institutes.
Abstract
Abstract:
The STOA experience: 30 years of scientific advice in the health sector … (
more
)
The STOA experience: 30 years of scientific advice in the health sector

Our societies benefit enormously from progress in science and technology. The speed of development in this area raises challenges for policy development. An effective science-policy interface is crucial to ensure that legislators and policy-makers are equipped with the expertise needed to deliver effective responses to the challenges and opportunities facing European society. The Science and Technology Options Assessment (STOA) Panel of the European Parliament (EP) was established in 1987 as a scientific advisory body to the institution as a whole. It has a mission to provide Members of the European Parliament (MEPs) with independent expert assessment of scientific and technological developments and related policy options in the service of informed political decision- making. In parallel, it undertakes a scientific foresight role within the EP in order to provide MEPs with a more long-term view on techno-scientific developments and their implications across many policy areas, affecting the society and the environment in a broad sense. STOA focuses on independent scientific evidence and advice for decision-makers in the following five priority thematic areas, all with a view towards a world of close to 10 million people in 2050:
1 Eco-mobility and modern energy solutions;
2 Sustainable management of natural resources;
3 Potentials and challenges of the Information Society;
4 Health and new technologies in the life sciences ('perfect life');
5 Science policy, communication and global networking.
Below is a selection of recent STOA activities in the health sector:
- Solving antibiotic resistance. Currently, antibiotic resistance is an issue in Europe and it could become much worse; it is also an even more serious problem in developing countries. Several recommendations emerged: (i) the better use of current antimicrobials is essential;(ii) novel antimicrobials are urgently needed to treat multi-resistant microbes; (iii) pharmaceutical companies will not, on their own, set up programmes to tackle antimicrobial resistance, because there is presently a predicted negative return on investment for new antimicrobials; (iv) there is thus an urgent need for a consortium to be created, involving pharmaceutical companies, academia, research centres, the EC, and EU Member States to provide leadership and funding to tackle this problem.
- Vaccine R&D in Europe. Today, life expectancy in Europe exceeds 80 years. This is quite new in the history of our species - for most of the 3 million years of our evolution, we had a life expectancy of approximately 30 years. The spectacular increase is mainly due to the conquest of infectious diseases by vaccines, hygiene and antibiotics. Just a century ago, in 1900, life expectancy was 47 years and people died from diphtheria, tetanus, smallpox, pertussis, measles, poliomyelitis and typhoid fever, but to name a few diseases.Overall, vaccines have done and continue to do an excellent job in eliminating or reducing
the impact of infectious diseases. However, despite the huge progress made in past decades, there is still work to be done: for some important diseases we do not have a vaccine yet, and for others, currently available vaccines are not good enough. Several challenges and unmet needs still remain and require an urgent effort in vaccine research and development: emerging infectious diseases, infectious diseases linked to poverty, bacteria resistant to antibiotics and non-communicable diseases such as cancer. For decades, Europe has been a leader in developing new vaccines. Continuous support to research and innovation and close collaboration between science and industry are key to keeping this prominent role in the world.This is not only in the interest of Europe's and the worlds' health, but also in the interest of creating and sustaining high-value jobs in Europe. The aim of this event was to raise awareness about and discuss the essential role of the EU in supporting research into vaccine technologies. During the event was emphasised the need for a more effective European strategy in bridging the gap between research knowledge and its practical implementation by industry.
- The Ebola outbreak: challenges and perspectives. The Ebola crisis topped media and political agendas for months as a number of countries in West Africa experienced the worst Ebola epidemic in history. In response, STOA convened a workshop on 4 March 2015,drawing together experts from international institutions, NGOs and European political partiesto discuss the importance of surveillance, rapid diagnostic testing for Ebola and the
prospects for vaccination against the disease. The Ebola outbreak occurred in a densely populated region, at the intersection of three countries, close to large urban centres and characterised by significant cross-border
population mobility. The three worst affected countries (Guinea, Sierra Leone and Liberia) did not have adequate means by which to assess and manage the outbreak effectively, due to many years of political instability and crippling poverty. When the outbreak began, healthcare systems were simply not able to cope with the treatment of the disease effectively and could not prevent it from spreading further. The Ebola epidemic reached
unprecedented levels, with far-reaching humanitarian implications and implications for development, health, economics and security. Although the EU and its Member States had the resources and opportunities for effective humanitarian and medical action during crises, they did not coordinate an effective response. The Ebola epidemic, particularly in its first phase, revealed the gap between opportunity and much-needed action. Lessons learned
from this crisis should be used to improve the role of the EU in similar situations in the future, ensuring that European aid can be effectively deployed to set up an improved emergency response system and supporting the establishment of sustainable health-care services in West Africa. A peer-reviewed scientific article was published following the event: 'Ebola: Lessons learned and future challenges for Europe', Lancet Infect Diseases, 2015.