The responsibility of science is more than just publishing results - presidential interview on this year's WSF
What ethical problems must researchers face at the beginning of the 21st century? This is one of the central questions of the 2019 World Science Forum (WSF), which will be hosted again in Budapest after the 2017 meeting in Jordan. The forum is organised by the Hungarian Academy of Sciences (MTA), whose president, László Lovász, says in his interview given to mta.hu that although gaining knew knowledge is the task of researchers, what this knowledge is used for is the common responsibility of political decision makers and all participants in the research process.
mta.hu: The motto of the 2019 World Science Forum concerns the responsibility of science. Are problems regarding the ethics of science the focus of the forum?
László Lovász: The ethics of science has a part that can be codified and another part that cannot. We can codify, for example, the precise rules of authorship, copyright issues and the correct way to publish results. The ethical guidelines of ALLEA have recently been published, and MTA also has a similar document. These include self-evident, generally accepted policies. In my opinion, however, it is much more interesting to look at the problems of science ethics that cannot be codified.
What do you mean by that?
It concerns what other obligations a scientist has besides achieving results and publishing them.
This includes how the results should be communicated to the public, and what a researcher should also consider in terms of what effects the discoveries might have on society in the long run.
These are complex problems. Let me give you an example. During the so called green revolution in the 1960s, the productivity of certain cultivated plants, including cereal crops, rose considerably. What nobler cause could we imagine than saving an increasing number of people from starvation? However, this result also contributed to fast population growth, which in turn led to overpopulation and thus to a shortage of food and further environmental damage. At present, after two or three generations have grown up, we now again face the problem that the Earth can hardly feed the majority of humanity. Now we can see that besides increasing productivity, it would have been useful to think about the long-term effects and the challenges they would present. Naturally, there are scientific results which have clearly not had positive effects, an example of which includes the utilization of nuclear power; today, the development of artificial intelligence could belong in this category.
In sum, ethical questions may arise in relation to the objectives of science. The expansion of human knowledge is a noble aim, but what this knowledge is used for is a much more complicated question. This is a problem that scientists have always faced. And of course they are not the only ones who have been pondering this, but also industry market players, political decision makers and everyone else who plays a part in research in one way or another. However, as scientific results are achieved by scientists, it is primarily their responsibility to reflect on the long-term effects. This is why we consider the responsibility of science a crucial topic, and this is why we chose it as a focal point for the 2019 WSF.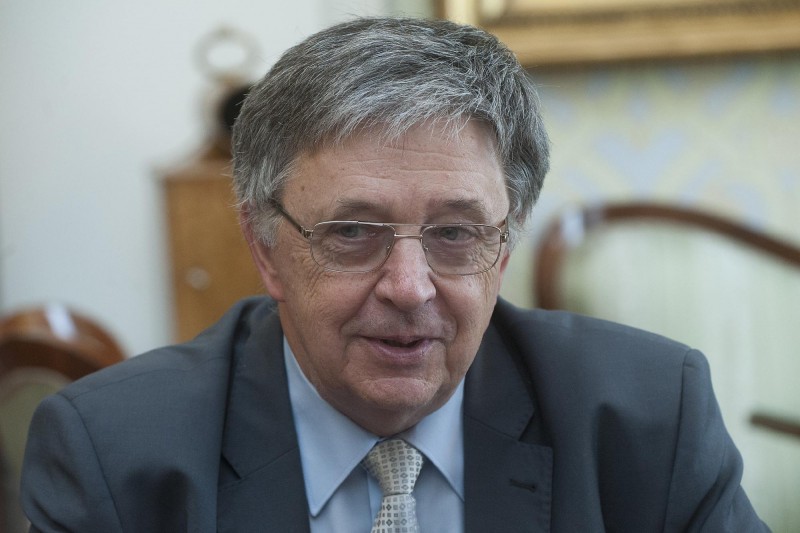 President László Lovász
Source: mta.hu/Tamás Szigeti
Which problems do you see as the greatest challenges for science today and how much are these addressed within the agenda of the WSF?
I think one of the most important problems is that, owing to the rapid development of science, many results are very hardly comprehensible, even for a person with a general level of intelligence. For example, when I was young, I understood more or less how a car engine worked and I could even disassemble one if need be. Today, this is out of the question. Or take, for example, the mobile phone. Everybody has one in their pocket; it is almost like an enchanted object that knows more than anyone could have predicted fifty years ago. But can an average user fix it if it goes wrong? I doubt it. And then we have not mentioned different medical treatments and pharmacological inventions that require really well-founded and complex knowledge. This means technology is becoming more and more complex and it is becoming more difficult for people to understand, which leads to many being afraid of it.
Therefore, one of the greatest challenges for science is not to give rise to fear and not to take unfair advantage of the fact that it creates things that the majority is unable to check.
However, it is equally important that scientists have a wide range of support from the public.
Do you think this support is declining?
Yes, definitely. In order to maintain trust, very strict internal ethical standards are required in science; respecting them is essential for researchers when they are involved in policy-making. There are many conditions and aspects related to scientific advising, but a knowledge of and respect for scientific results are essential for both parties. Take, for example, the fires in the Brazilian rain forests: several "facts" were published in the press. This topic is on the WSF's agenda: it will be addressed by Paulo Artaxo, whose team won the 2007 Noble Peace Prize for their climate research, together with Al Gore.
What major organisations are actively involved in this year's WSF?
The most important international organisations that are participating include UNESCO, the ISC (International Science Council), the AAAS (American Association for the Advancement of Science), the EASAC (European Academies' Science Advisory Council), the TWAS (The World Academy of Sciences) and the Global Young Academy. The latter is a very important organization as it is bringing a younger generation of scientists into the scientific conversation.  Correspondingly, an organization called the Academy of Young Researches was recently founded in Hungary with the same aim.
This year's WSF will also be a retrospective of the last twenty years. Do you think that owing to the work of the past two decades, political decision makers have been paying more attention to this gathering of scientists from all over the world?
This is self-evident. The first conference in 1999 in Budapest was a meeting between governments, that is, a minor event organised at a different level. But that was the starting point from which the WSF grew out of when the MTA took on the role of organiser with the partnership of major world-level organisations in 2003. The next level came when the biennial WSF, although retaining its nerve center in Budapest, was held in Brazil in 2013 and four years later in Jordan. The next WSF, in 2021, will take place in the Republic of South Africa. This shows that this event has been growing in influence and the number of participants from various regions of the world is growing. When choosing the host country for the next forum, it is important to ensure that the summit does not end up being a meeting place for scientists from developed countries only, but that representatives of countries categorized as "developing" with respect to science are included to a greater extent. This is crucial because the organisation of the WSF itself can boost the scientific standing and reputation of a country.
Please click her to see a detailed agenda of the World Science Forum.
The events of the World Science Forum 2019 take place in Budapest, Hungary from 20 to 23 November. Budapest hosted the WSF four years ago, while in 2017 the forum was held in Jordan.
The WSF, held every two years since 2003, is a unique conference focusing on a single scientific-political topic. It offers an opportunity for participants to discuss the roles of science and the economic, environmental, social, cultural and ethical aspects of scientific results.
This year 1,400 participants from more than 110 countries will be arriving to Budapest, including researchers, science politicians and decision makers.
Some themes from the varied agenda include:
Ethical challenges of a sustainable global food system
Hungarian Water Research Programme – Challenges and Research Tasks
The Future of Science and Science for the Future
The Ethical Conduct of Science