‹ Back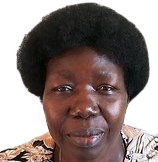 Mrs. Joyce Ikwaput
Nyeko
Director, Directorate of Fisheries Resources, Ministry of Agriculture, Animal Industry and Fisheries
CV
Joyce Ikwaput Nyeko is a fisheries scientist and holds a Master of Science in Fisheries Policy and… (
more
)
Joyce Ikwaput Nyeko is a fisheries scientist and holds a Master of Science in Fisheries Policy and Planning. She has extensive experience, professional knowledge and technical skills in the fisheries sector with work experience of 35 years in the Directorate of Fisheries Her work experience covers the fields of fisheries resource management and development, strategic fisheries policy formulation, planning and implementation, fisheries research and statistical data management. She has development and natured the fisheries co-management approach. She has been active in fisheries issues at EAC level. She is now Deputy Executive Director, Lakes Edward and Albert Fisheries and Aquaculture Organisation.
Abstract
Abstract:
Protecting large freshwater resources, on which millions of people rely to live, is a key driver to… (
more
)
Protecting large freshwater resources, on which millions of people rely to live, is a key driver to achieve social justice.  the African Great Lakes and the North American Great Lakes alone represent 45% of the worlds freshwater and support over 97 million people.
Globally, freshwater resources are increasingly threatened by a growing number of stressors requiring integrated and inclusive management approaches to address issues including hunger and poverty allevation, equity, and job creation - all for human well being. Inclusive collaborations and gender equity are critical requirements in freshwater sciences towards achieving these outcomes and yet much more work remains to be done.
The session focuses on ways to: protect freshwater resources through strong partnerships, education including marginalised voices and advancing women in science; share knowledge that leads to policies promoting better outcomes that are meanginful, supported and lasting; support planing for more inclusion of women, indigenous peoples and other voices in science and adrdress critical environmental social justice and equity related issues.